Kusam Klimb
2006-06-18
Today more than one muscle is sore -- quite a few of them, in fact, as yesterday was the Kusam Klimb, in the village of Sayward, BC.
For whatever reason, departure from Victoria didn't happen until about 5:45 PM on Friday, meaning Malahat traffic goodness. Some easy cruising up the Island Highway plus a food stop got us poking around for a campsite at about 11:10 PM in Sayward; a note on the campsite office door said "find a site, register in the morning" -- so the tent went up and we dove in until 6 AM abruptly arrived.
It had rained a bit during the night, but by morning it had stopped and was nicely overcast. Mark was my hapless victim for this trip; we work together and hike occasionally -- he intended to hike the whole course and take some great photos, not expecting that to be such a feat in itself. We showed up at the Heritage Hall in time for the 7 AM start and picked up our race packs (race numbers, t-shirts, and assorted advertising). I saw three faces I knew by name and a half-dozen other familiar ones, had a quick "hello", wiped the sleep from my eyes, ignored the silly aerobics (save it for the race!), and started out after the enthusiastic countdown (at about 7:05).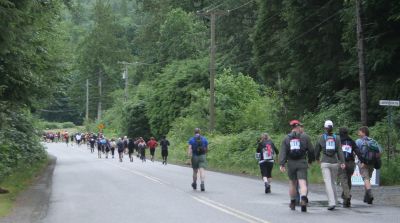 Many started off down the pavement with a brisk trot, others a comfortable walk. About a kilometer down the main road the course hangs a right at a defunct pub and we start the incline, first a little, then a lot -- from pavement to logging road to trail in 36 seconds. The trail winds through some trees, passes through a small cut block and back into the forest. The dirt reminds me of peat, with a sponge-like quality to it; lots of roots are exposed, don't remember much greenery. Switchbacks lead us up -- things are going well and most are jogging, but walk when we hit a steep bit.
About 20 minutes or so in, we hit the first checkpoint, 400 meters up. The switchbacks quickly fade and the trail gets a bit more vertical; now we're hiking pretty steadily. I take a 10-second breather and let a few pass; buddy with norwegian pigtails mumbles something about me looking like a sasquatch -- which is odd given the bright orange shirt. I stick close by, juggling places with a few as we climb, losing a little ground.
40 minutes later, i'm about two-thirds of the way up (3000 ft?). The trail continues to get more interesting, with friendly vegetation and bonus rock features; the grade is impressive. We're gaining a lot of elevation, and the trail feels great -- lots of steep bits, but exposure doesn't seem to be there. Perhaps i'm too focused or in a trance, as this surely wouldn't be the case coming back down. I stop to grab a quick snack (chocolate!) and almost-naked guy passes me. Collectively we all keep trudging along -- seems there is always someone in front and behind you, but just out of sight. Cheerful hoots and hollars randomly erupt. Soon we are atop a rock lookout (Keta view?) and the snow begins!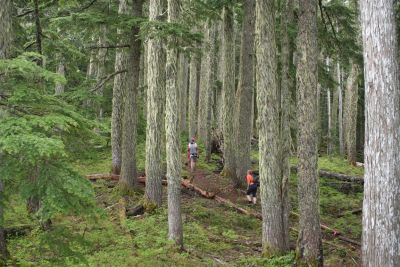 Hey, we're running again! It takes a little bit to get used to the new terrain, but we get the hang of it. First it's just the odd patch of snow, but quickly becomes the odd patch of dirt. We start to drop down, the occasional rope linked between trees for moral support. Sasquatch guy passes me on one of the drops. We arrive at a frozen lake, with a few patches of bright blue water revealed. Hugging the shoreline, pink flagging tape weaves us through the trees on hard rippled snow.
The flagging veers left and over a few mounds. I pass sasquatch guy again on the uphill, and keep steady with 2 others as we carefully but briskly hop up the steep incline, slipping every few steps but making sure not to fall (all the way back down to the lake!). After one steep slope we're at the saddle, with volunteers pointing us down the other side. A glance at my watch indicates that we're 2 hours in -- not bad for a near 1500 meter climb.
A wee patch of dirt and shrubbery comforts the transition, but the trail quickly angles downhill. For a little ways some steps had been carved out in the snow, making for a speedy descent of about fifty meters. Only a handful (20?) people had been down at this point, but a few steps had already collapsed into creeks below. Ropes led the way through the trees wherever it was too steep; several had worn gloves and ripped downhill with glee, so I lost a little time here being cautious not to burn my hands on the wet rope. It was a quick drop, with lots of spills for those in front of me; a speedy girl ahead made for a good litmus test of where not to step. Soon the slopes faded, and snow gave way to some great mud and pools of water. It was here that I broke out and started cooking with gas; stretch those legs out and empty them puddles. The trail followed a creek for a ways, and a log bridge led across.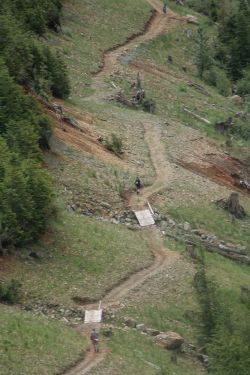 Just around the corner another small checkpoint appears; straight through that and I spot 2 guys, one who passed me on the downhill and another unbeknownst. We're into the great wide open at this point, clearcut regrowth with deactivated roads and bear shit everywhere. Nice gravel running with a down-hop-the-creek-and-back-up every 30 seconds. I catch up and start drafting -- due for another snack at this point so I grab another hunk of chocolate from my bag and stuff my face while in transit. After i'm fed and watered, I continue to trail for a little while and then pull out to pass; pass those two, and soon i'm passing sasquatch guy yet again. The road rounds a corner and across the valley one can see the next checkpoint, and a few runners ahead; the trail is beautifully groomed at this point. I recall seeing a picture of Bill raking the trail at some point, and this is definitely the spot.
At the next corner a much larger creek flows, and I decide to take the "racoon bridge", a horizontal ladder of sorts. Just past that an older fellow is hobbling along, quads seized up. Sorry dude, i'd console you, but the checkpoint is not very far. As I roll in, a volunteer pipes up "good job, almost half done". Half? almost?! ahahaha... ah well, was expecting to be two-thirds done -- I stop for a quick grazing of the smorgasboard. Nibble nibble, chat with the ladies, and grab a nanaimo bar -- and sasquatch guy blows through. Whoa... gotta go! Fully charged I sneak past him. 30 seconds later I pass naked guy, and the signage leads off the road and into the ditch. The short path through the trees turns out to be a shortcut and spits us back onto the road. Left and right I see pink flagging, but spot someone on the right, which is downhill, and proceed.
The road is charmingly overgrown, with branches at the sides and long grass in the center; space is lacking just enough that one needs to dart from lane to lane to avoid the brush, or push back the occasional branch. I settle into a rhythm and cruise: 12-ish km to go. Spray painted on the gravel in pink is "2 km". I catch up to a nice guy from Campbell River and we chat for a few moments. After "4 km" I meet a guy wearing headphones, and we puzzle over why the kilometer markers count up. After "5 km", the trail makes a hard right at a checkpoint, and the road becomes long grass with windy single track and lots of bumps.
Occasionally I hear a whistle blow -- the volunteers letting the bears know that us yellow pop-tarts are out and about. The single track hops back and forth, down into creeks, and up the other side. Some time passes and I come across a fellow with a little girl -- i'm puzzled, but it turns out they had turned off at checkpoint 1 on a lower loop. I give up a smile and a greeting and they let me pass. The trail weaves into the forest and down to a river. A well-used log leads across and a short steep bank leads through some ferns and to a final checkpoint.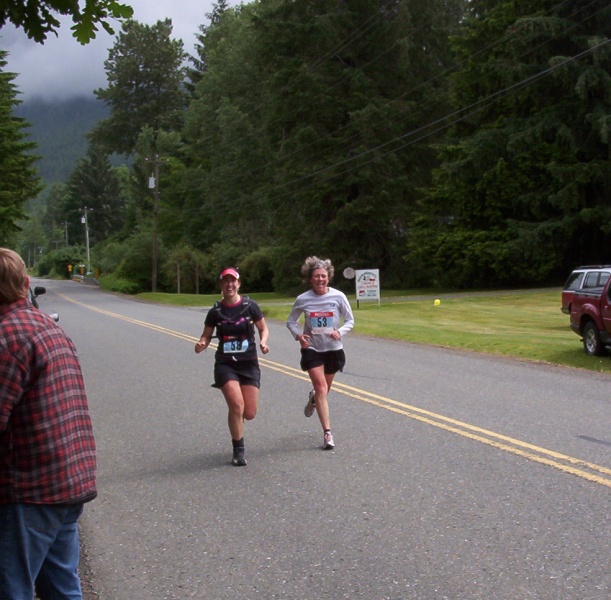 Almost there: the signage says "2.5k". A gravel logging road appears and I meet 2 guys trekking along; they cuss in a friendly manner and joke "send help". Just down the road is the fastest woman. Past her the road makes another step toward civilization: well-graded gravel. I come around the corner to see a fellow just turning his head back from a "look-who's-coming". He didn't see me... hehe! He starts to walk and I slither past. Pavement appears and I hold my speed, watching carefully for anyone seeking retribution. Back on the main road the finish line is just around the corner, and I see one more -- i'd love to steal one more place, but there's no chance.
br> I trotted into the finish line at 3:14:14, taking 9th place overall and 1st in my age category (20's). I was shocked to learn that I wasn't at least 20th -- definitely a PR!
br> After that, Rob, Lindsay, and Randy came burning in, with 3:50:00, 3:55:26, and 4:14:52, respectively. Then snacks, nap, beer, snacks, and Mark rolling in with 6:13:57, followed by hot tub, beer, poutine, 8-ball, and the banquet/awards.
It really was a fantastic course, and i'll definitely be back next year.
Finally, here's a gorgeous stolen picture of Mt. H'Kusam on a clear day: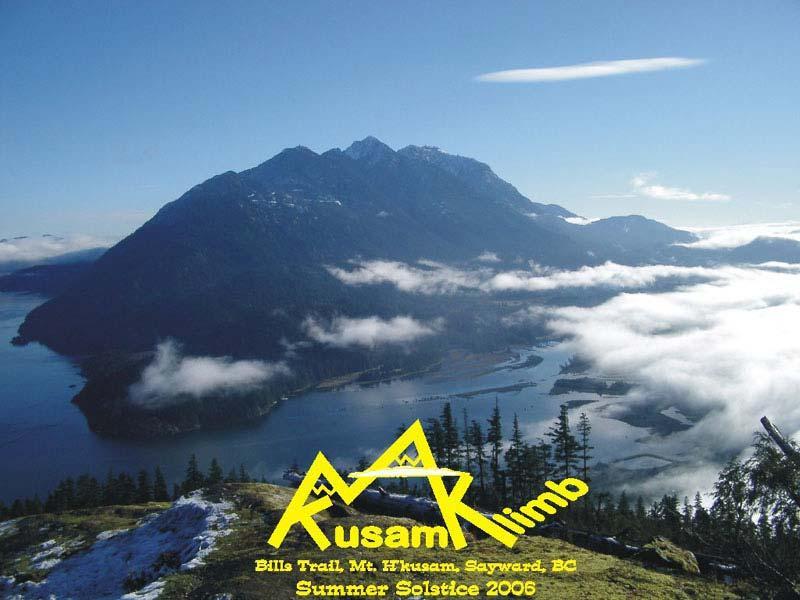 [updated June 24th -- added first 3 photos courtesy of Mark]